---
The Chapleau Public Library Presents
Chapleau in the 1950s
---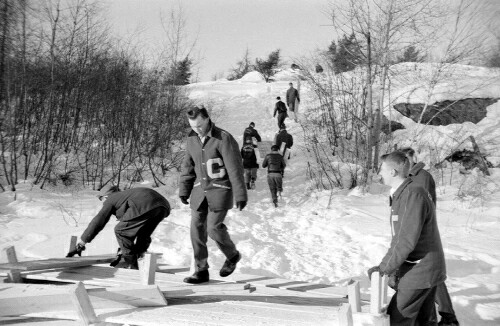 The Chapleau High School Toboggan Slide, probably 1956. Ian Macdonald tells it this way:
We built it on the rock behind the old golf club building. It was similar to a sluice that they use in logging. The toboggans went like hell.
The school bought the lumber to make a slide. The crew in the foreground is assembling what appears to be twelve foot sections of the "sluice section of the slide" . The other group in the middle are trundling up the hill with a completed section. Obviously it was all put together at the top. The fellow in the lower right is Jim Machan.
You'll notice the jackets with the big "C" on them with Chapleau High spelled out on the back. My recollection was that we got a special deal with these jackets if we only used two colours (blue and white in this case). We (student council) then voted to change the High School colours to blue and white from the previous red, green and white to justify the jacket purchase. I think they changed back to red, green and white the following year.
It was typical of how young people in those days seemed to be able to get together as a team and make things happen. Other projects included making hockey rinks, a dance floor behind the Anglican Church etc. You don't see as much of this type of thing anymore. This was, of course, a year or so before you had television in Chapleau and similar other distractions for people. I expect it is this "quality of community" that people remember about the town and why they enjoy being reminded of it.

View of Chapleau from the top of the toboggan slide.
Use your BACK button or click here for the Index of 50s Photos
---