Chapleau became an organized municipality on February 1, 1901, a month after the beginning of the twentieth century. It was a very small town in a very young country. (In February, 1901, Canada, population five and a half million, was in its 34th year, a mere child among nations.)
The world into which the Municipality of Chapleau was born now looks rather quaint. Just 10 days before Chapleau's official birth, Queen Victoria died, and the vast British Empire was plunged into mourning. The new monarch, Edward VII became Canada's king. William McKinley was president of the United States but his assassination later in the year would make Theodore Roosevelt president. Nicholas II, Tsar of All Russias, would reign for seventeen more years before being shot by the Bolsheviks.
In 1901 the map of the world was covered with crimson patches, showing the extent of the British Empire that had, in 1897 celebrated Queen Victoria's Diamond Jubilee. Canada, enthusiastically rejoicing along with the rest of the Empire, issued a stamp showing a map of the world splotched in red with the immodest caption, "We Hold a Vaster Empire Than Has Been."
It really wasn't our empire.
Canada was optimistic though. According to Sir Wilfrid Laurier, the twentieth century would belong to Canada. As it turned out, the new century belonged to technology and those who controlled it. In 1901, Marconi transmitted a wireless message from Cornwall to Newfoundland. Two years later, the Wright brothers demonstrated that humans could fly in heavier-than-air craft. At the beginning of the twentieth century technology was on the march and a shrinking world was unwittingly becoming more dangerous.
Also in 1901, Henry, a former farm-boy in Michigan who was fascinated by machinery was tinkering with a horseless carriage propelled by an internal-combustion engine. In 1903, he formed the Ford Motor Company and proceeded in the following decades to put the world on wheels and incidentally make oil the most valuable commodity of the century.
Walt Disney was born in 1901 and after a while much of the twentieth century belonged to him and his big-eared rodent.
Meanwhile, lost among the forests and lakes on the Canadian Shield, the Chapleau of 1901 had little connection to these kings, tsars, presidents, inventors, industrialists, and entertainers. Its only link to the outside world was the railway that had called the town into being. It was a modest town, a collection of frame houses, three churches, a couple of hotels, a Mechanics Institute, and a two-room public school.
The new-born municipality had its work cut out for it. There was no electricity until a lumber mill provided it in 1905, no municipal water system until 1910, no hospital until 1913-14, and no municipal sewage treatment system until 1950. Chapleau didn't acquire a proper town hall and fire hall until 1914 and 1915 respectively.
While Chapleau struggled to give itself the basic urban conveniences, the outside world repeatedly forced itself drew Chapleau's attention to itself. The kings and emperors had their Great War and men from Chapleau were killed in France. In 1916, one of Henry Ford's cars appeared on Chapleau's streets, a harbinger of the motorized transportation system that would, within decades, challenge the railway that was the basis of the town's economy.
The Stock Market Crash of 1929 eventually brought hardship to Chapleau and hordes of desperate transients passing through it.
That all ended with the horrors of World War II when more Chapleau men went overseas to serve and sometimes die in Asia, Africa, and Europe.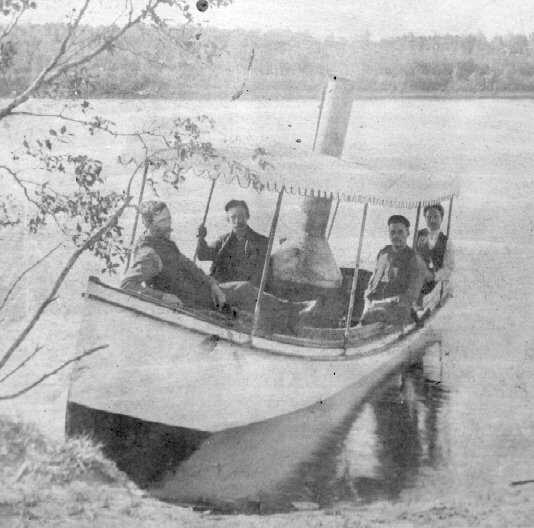 First and only steam pleasure boat on Chapleau River, owned by Bill Moore's father, one of the first settlers in Chapleau. Mr. Moore Sr. is second on left. Picture taken in 1895.
---
In the post-war years, highways opened up to the south, to the east, and to the west. In the 1970s, an airport put Toronto merely a few hours away. The pioneering work of Henry Ford and the Wright brothers was fundamentally affecting life everywhere, including Chapleau.
As for communications, first radio and then television brought the world into Chapleau's homes faster and with more impact than newspapers could dream of doing. Telephone service appeared in 1924 and, at the close of Chapleau's first century, the internet came along to link Chapleau even more intimately with the outside world. Chapleau was still a small dot on the map, but it was no longer isolated and remote.
All this happened in a hundred years. History blinked and the world had changed beyond recognition.
Today, there are among us infants who will see 2101. We cannot imagine what wonders and suffering they will know –just as the folks in 1901 could not possibly foresee what the 20th century would bring.
---

--article by George Evans, largely based on material found in the book, Pioneering in Northern Ontario, by Vincent Crichton.