Dec 12
1933
Machine CF-AAK (Fairchild) crashed at Chapleau, Ontario.
June
1936
Junkers CF-ARM and CF-AQW at Goldpines, June 1936.
July 3
1936
Staff picture
July 8
1936
Junkers CF-ARM
July 8
1936
Another view of Junkers CF-ARM at the dock in Sioux Lookout, July 1936.
July
1936
Junkers CF-ARM at Sioux Lookout Ontario, July 1936.
Aug.7
1936
Junkers CF-ASN and Fairchild G-CAVV
Aug. 7
1936
Accident on Spirit Lake
Aug. 15
1936
Junkers CF-ARM at Goldpines, August 15th, 1936.
Aug.
1936
Junkers CF-ASN and Fairchild G-CAVV at Sioux Lookout Ontario
Winter
1936
Airbase during winter of 1936
July
1936
Junkers CF-ARM at the dock in Sioux Lookout, July 1936.
March 11
1936
Marion Seeley with doomed aircraft. See also next photo.
March 12
1936
Fairchild CF-AAT crashed on "AT" Lake about 10 miles north of Sioux Lookout.
2nd shot | 3rd shot | 4th shot | 5th shot
6th shot | 7th shot | 8th shot
March
1937
Sioux Lookout Ontario, March 1937. Junkers CF-ARM
March
1937
Another view of same as above. Sioux Lookout Ontario, March 1937. Junkers CF-ARM
March 14
1937
Sioux Lookout, March 14, 1937. Bellanca Airbus CF-BBJ. Hennessy Aubner Ltd.
March 14
1937
De Havilland Dragon Fly and Junkers CF-ARM, March 14, 1937. At Sioux Lookout base.
1937
Fairchild CF-AWV on Bathurst Lake in March 1937.
March
1937
Sioux Lookout, March 1937. Junkers CF-ARM being loaded.
March
1937
Rod Gratton and Frank Coulter with Junkers CF-ARM in March 1937.
March
1937
Staff photo with Junkers CF-ARM at Sioux Lookout, March 1937.
March
1937
Staff photo, Sioux Lookout, March 1937.
March
1937
Another staff picture from Sioux Lookout, March 1937.
March 18
1937
Taylor Craft CF-BBY from Hudson, Ontario.
March 18
1937
Same Taylor Craft from Hudson, Ontario.
May 24
1937
Junkers CF-ABK taking off from Sioux Lookout bound for Red Lake
June 3
1937
Junkers CF-ARM arriving in Sioux Lookout from Goldpines.
June 8
1937
Al Hunt servicing the "Rolls Royce" at Goldpines.
June
1937
At Winisk on the Indian Treaty trip during the period June 23rd to July 8th 1937.
June 21
1937
Front view of the new hangar taken on June 21, 1937
June
1937
Side view of new hangar and office, completed June 1937.
July 15
1937
D.H. Dragon CF-AVD, pilot H.S. Jones from Charlottetown, P.E.I.
July 26
1937
Junkers CF-AQV and CF-ASN at Sioux Lookout, Ontario
July 28
1937
Engineers Jack Hardman, Paully Del Rizzo, Stan Knight, Horace Russell, Bud Brown.
July 28
1937
Pilot Norm Forester and Fairchild CF-AWV
Aug. 17
1937
Sunset, August 17, 1937. Fairchild CF-AWV anchored on bay.
Aug.
1937
Stinson CF-AZX piloted by Dave Glen.
Aug.
1937
Prospertor's Airways Fairchild 82, CF-AXA at our dock.
Sep. 30
1937
Taken from inside the hangar, showing the flyway and machines
Nov. 12
1937
Junkers CF-ABK in hangar for change over from floats to skis.
Nov. 30
1937
Staff with Fairchild G-CAVV being changed over for winter operations.
Jan. 18
1938
Junkers CF-AQV piloted by M. De Blicguy taking off at Sioux Lookout, Ontario.
Jan 24
1938
Junkers CF-BAB owned by Father Couture "The Flying Priest".
Feb. 27
1938
Junkers CF-AQV at Hudson Bay Post on Trout Lake, Ontario.
March 17
1938
Fairchild G-CAVV being gassed up.
March 18
1938
Engineers Stan Knight, Paulley Del Rizzo and Frank Coulter servicing Fairchild G-CAVV.
June 1
1938
Frank Fuller's "Seversky". Arrived at Vancouver Airport from Seattle cruising at 350 mph.
June 4
1938
Marion Seeley, June 4th 1938 on Grouse Mountain
June 11
1938
Howe Street showing Canadian Airways office
June 11
1938
Again Howe Steet, showing Canadian Airways office
Aug. 17
1938
Norduyn Norseman CF-BDC at Sioux Lookout, Ontario. Pilot J.F. Crosby.
Aug. 24
1938
General Airways Norseman CF-AZF taking off from Sioux Lookout
Sep. 4
1938
Fairchild CF-AKT piloted by Bruce Middleton ready to take off from Sioux Lookout.
Sep. 24
1938
Aerial view of Sioux Lookout showing the Canadian Airways hangar.
Sep. 24
1938
Another aerial view of Sioux Lookout showing the Canadian Airways hangar.
Nov. 12
1938
Junkers CF-ABK in hangar.
Nov. 30
1938
Machine G-CAVV (Fairchild) being towed out to the outer bay for change-over.

This is the end of Marion Seeley's photographs. The ones that follw below are from other sources.

Canadian Airways today.
Here are two photos of the present-day Canadian Airways Ltd. Here is the first and this is the second.

1930s & 1940s
Here are some previously unseen photos of Canadian Airways airplanes. They are on the website of Ron Dupas. E-mail him here.
1928 - 1931
1920 or 30s. A Fokker Universal with it's engin running. Skippy Ketterer of Chapleau supplied this photor of G-CAIX. Renald Fortier of the Canada Aviation Museum tells us:

"Registered 10th February 1928.Operated by Western Canada Airways, Winnipeg.

Registered 25th? November 1930. Operated by Canadian Airways (western lines), Winnipeg. Damaged beyond repair on 12th? of March 1931 when it ran into a barn during a forced landing at Elk Lake, Ontario. Caused by lack of fuel."

On the door one can make out ".... AIRWAYS LTD. MAN."

Dec. 12 1933
1933. This airplane belonging to Canadian Airways crashed on December 12, 1933. These two pictures were made available by Bob Cameron in Whitehorse, YT.

Renald Fortier of the Canada Aviation Museum contributed the following information: "Fairchild 71 CF-AAK, registered 4 March 1929 - operated by Fairchild Aviation, Grand Mere (Quebec).

Registered 1930 - operated by Canadian Airways, Montreal Damaged beyond repair on 12 December 1933 while taking off at Chapleau."

Here is the first, showing the entire airplane. Note the fellow in leather flying gear looking at the engine. You can make out one propeller blade. Note also the wooden crate, upside down in the snow with Pellow's Chapleau written on it and the snapped hydro pole with the street light still attached. Here is the second picture, showing the smashed front of the machine. Note the Canadian Airways logo on the side of the airplane.

The Toronto Daily Star reported the next day, December 13, 1933 as follows. THREE INJURED WHEN AEROPLANE CRASHES NEAR CHAPLEAU. When the aeroplane flown by Ron George, northern air pilot, crashed into a rocky hill, near Chapleau, Ont., three men, Len Perfetto, W. McDonald and Fritz Fraser were slightly injured. George, who figured in a landing with a broken ski some months ago, again saved his passengers by skillful handling. The 7-passenger machine in taking off was struck by a cross-wind.

Another newspaper clipping in the posession of Bud Park of Chapleau, probably from the Sudbury Star, reported the event this way under the picture of the plane: AFTER THE PLANE CRASH AT CHAPLEAU Three men were injured, none seriously, when an aeroplane crashed at Chapleau on Tuesday. The aeroplane was in charge of Ron George, noted northern air pilot, who probably saved the lives of the passengers by his skillful landing under difficult conditions. The wrecked aeroplane is shown above. The crash occured right after the take-off when a cross-wind struck the aeroplane.
A Mystery. In November 2012 we received an e-mail from Paul Stevenson which read about like this:


Some time ago I acquired a bracelet which at some time in the past was probably gold plated.

I don't see any marks regarding the metal but the plate and bracelet appear original. The bracelet is joined by a woman's watchband connector.

It has the Canadian Airways Limited crest on the front but the back is what makes this something unique. It is engraved as follows:

Jack McGovern
from The Pilots
of No2.A.O.S.
16/7/43

Any info you could supply would be appreciated.
---

Below are two photos of the bracelet. We ask that anyone able to shed some light on the mystery surrounding this bracelet please to e-mail Paul Stevenson at

[email protected]

and to send a copy also to

[email protected]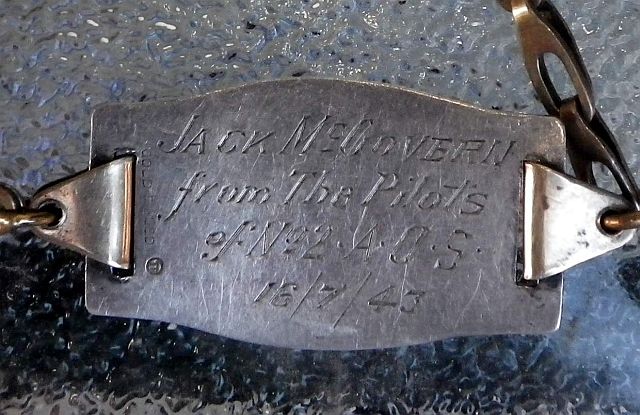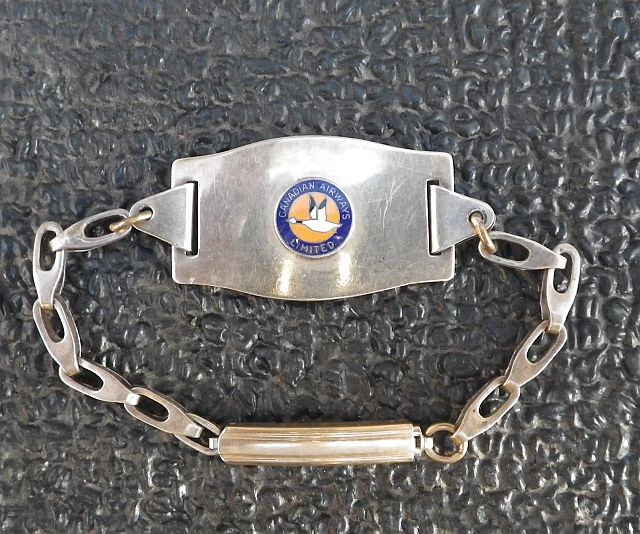 Then, on April 8, 2013 we received the picture below, from Kathy Hawley, along with the following text:

I have a photo of a Jack McGovern that shows a man in front of an airplane. This photos was in with pictures of Wright family member photos. He does not seem to be a relative perhaps a friend. I do not know anything about him but photo has his name and and address. Jack McGovern 260 Shelbourne Street Toronto, Ontario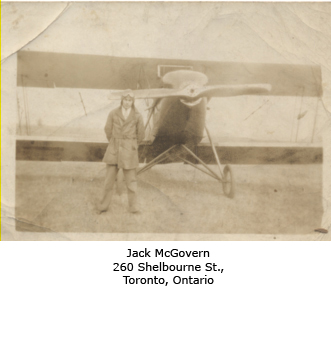 If you can shed light on the history of Jack McGovern please contact Kathy Hawley

[email protected]

and Paul Stevenson at

[email protected]

and also Hugh at

[email protected]



---
Engineer's Winter Song
Sioux Lookout.
Six a.m. the clock never freezes,
Everything else does by - - - - -
Dark as pitch and cold as Hell
Why I'm an Engineer I'll never tell.
Light the fire and a cigarette
Get the torches and oil pail set
Out into the cold at forty below
Under the cover for an hour or so.

Cold and alone while the firepots roar
While up in the shack the pilots snore
Snug and warm in their sleeping bags
Trying to recover from last night's jags.

Oh, it's lots of fun earning your gelt
So far away from the banana belt
Earn big money in Aviation
Live in the bush on an iron ration.

In with the slippins put the cover in the back
Wind the inertia till the snow turns black
Jump in the cockpit before she runs down
And wind the booster around and around.
I thought it would be romance and fun
Looking after a seventy one
Freeze your face and your fingers too
Servicing a Wasp North of fifty two.
I like it fine but why be a hog
When there's lots of new fellows who want the job
I like it fine but I think I'll beg
Tommy Thompson for a job in Winnipeg.

In the land where Whiskey has been frozen
Many were called but we were chosen
It called for a man that didn't know fear
So hats off all to the Engineers.
A.K. Murray.

Read here about the Fairchild 71 aircraft.
Send e-mail to Hugh Kuttner (site maintainer).
Ken Wilson who grew up in Sioux Lookout wrote in the spring of 2001:
Mr.Hills,
I cant begin to tell you how much I enjoyed the photos that your mother took of that long ago era. I was raised on the lakeshore in Sioux Lookout and I can clearly recall just how busy the airlines were during the 1930s. As kids we were always hanging around the water base. Men like Mike Deblicquy. Art Schade, Stuart McRorie and Westy Westergaard always seemed to be a cut above the other townspeople. I remember when the first Norseman came into Sioux. To us kids the Norseman seemed to be like a Cadillac compared to the Fokkers, Fairchilds and Moths that had come first.
As a further note you might find it interesting that between our home and Canadian Airways there existed a small factory operated by the Elliot Brothers. They manufactured airplane skis for almost all the planes that flew during the winter months. This was in the time before anyone had ever heard of wheel-skis. In point of fact Admiral Byrd used Elliot Brothers skis on his trip to the South Pole and his Antarctic exploration. I believe that there is a set of Elliot Brothers skis in the Smithsonian in Washington D.C.
There are several other things that come to mind when I reflect on the old water base occupied by Canadian Airways.
To the left of and more or less paralleling the shoreline three anchor buoys were in place. Whenever there was any suggestion that a high wind was approaching, the Canadian Airways staff would tow the planes out and secure them to the anchor buoys. We were told that this was done for insurance purposes, as regardless from which direction the wind came, the planes would swing into the wind, whereas if they were left secured to the dock, the wind could flip them over with a lot of resultant damage.
Another thing that comes to mind was the method of starting the engines. In the early days there appeared to be two methods. The first one would be the engineer grasping the tip of the propeller and physically snapping it around, while the pilot energized the circuit and eventually the engine would start. A second method would see the engineer crouched beside the cowling where he would start to turn a crank handle, which in turn would start turning an inertial drum. When sufficient RPMs had been achieved, the pilot inside the plane would pull a rod which would then engage the engine with the rotating drum.
One of the engineers was Horace Russel, probably the only one-armed engineer in the country, and in my mind's eye I can still see him turning the crank on one of the Junker aircraft. I just thought that might be of interest to you about the way things were before the delf starter.
The photos have really touched a wave of nostalgia to someone who can recall the golden summers of my youth..... Thank you
---
Allan Gray now in Austin, Texas wrote on May May 17, 2001:
Stuart McRorie must be the gentleman who was the father of four daughters, Yvonne, Audrey, Shirley and Elaine and lived for a time (40's and 50's at least) on Spruce Street in Winnipeg. I was a contemporary of the daughters and spent many long winter evenings in their home enjoying their family life and all. The girls are still around - at least Audrey is still in Winnipeg I understand. My Mr. McRorie was of course a "bush pilot" and as I recall flew mostly for Canadian Pacific Airways. He had a polar bear skin in front of their piano at home. Am I right about this?


Read the book about Stuart McRorie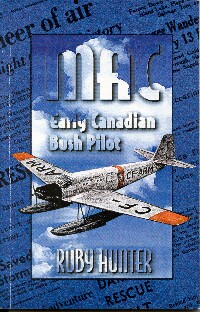 Stuart McRorie's sister Ruby (McRorie) Hunter, just prior to her 94th birthday in 1999, published an account of her brother's experiences during his lifetime of flying.

The book costs $10.00 U.S. plus postage. You can order your copy directly from Ruby Hunter at the following address:

Ruby Hunter
19000 NW Evergreen Parkway, Apt. 48
Hillsboro, OR. 97124
e-mail

[email protected]