---
BACK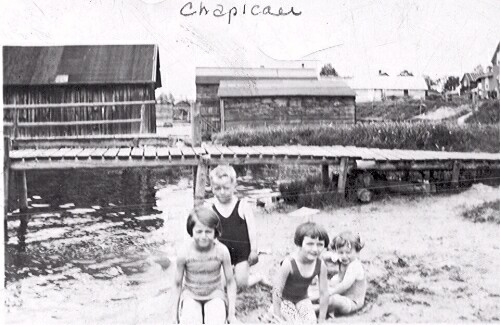 1933. Once the popular swimming hole in Chapleau was the PIG PEN situated in between Gussy Evans's and D.O. Payette's boathouse, just behind the current retirement home complex in Chapleau. Many people in Chapleau had summer homes in Mulligan and Pellow's Bay "down the lake". Everyone that had a boat had a boathouse. Each boathouse was built on log and rock piers. There were two huge logs with drilled holes in each, so that pipe could be inserted to twist the log and the ropes attached to lift the boats out of the water, to prevent them from banging against the walls when the waves came surging through the rustic hinged doors lakeside. Broken glass was common next to the boathouse, probably from some bottle that was dropped or misplaced while the boat engines were being repaired?
The pigs that once were fenced behind the Roman Catholic convent building had rooted out the topsoil and left a sand beach where the children of Chapleau now swam and enjoyed. Diving for the white "ponds cream jars" in the murky water.
Left to right: Edith Rose, Ross Pellow, Joy Bell and William R. Pellow. You can see the Fortin's house in the extreme right of this picture.